No-bake cheesecake - "Raspberry Rebel"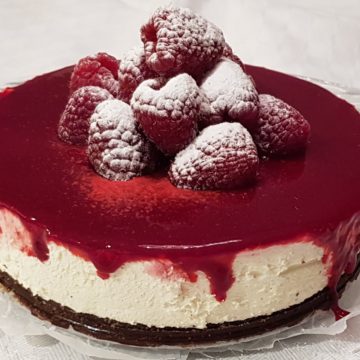 Skrevet av:
Fett & Forstand
150 g (5.2 oz) finely ground almonds or almond flour.
100 g (3.5 oz) butter
6 tablespoons brown sugar substitute
4 tablespoons cocoa powder
pinch of salt
150 g (5.2 oz) creme fraiche or sour cream
250 g (8.8 oz) cream cheese
3 dl (1 and ¼ cup) heavy whipping cream
6 tsp gelatin powder
10 tbs lukewarm water
100 g (3.5 oz) powdered sugar substitute (1:1)
1 tsp vanilla powder (You can also use vanilla extract - optional)
1 tbs lemon juice
300 g (10.5 oz) thawed frozen raspberries
4 tablespoons brown sugar substitute
30 ml (2 tbs) water
Line the bottom of the springform with parchement paper.
Melt butter and add brown sugar substitute to dissolve.
Dry roast almond flour in frying pan on medium + heat until lightly browned.
Stir the cocoa powder in then add the butter mixture.
Spread the mixture in the cake tin and allow to cool.
Add gelatin and water to a microwave-safe container. Let bloom while preparing the rest.
Beat the heavy whipping cream into cream and set aside.
Whisk together creme fraiche/sour cream, cream cheese, powdered sugar, vanilla powder and lemon juice.
Heat the gelatin in the microwave for just under a minute or until it is completely liquid.
Beat the gelatin into the cream cheese mixture.
Gently fold in the whipped cream.
Spread the filling on the cake base and allow to cool for a minimum of 5 hours.
Add water and sweetener in a microwave safe container and microwave for apx 30 seconds to 1 minute until sweetener is completely dissolved. Alternatively, tstir the sweetener in boiling water.
Pour the sugar mixture and raspberries into a blender or similar and pulse until smooth. It is important that you do not pulse too much, just until the berries are crushed, otherwise you crush the berry seeds and get a misty and more bitter sauce.
Strain through a colander and allow to cool slightly before pouring over the cake while it is still in the mold.
Recipe by
Fett & Forstand
at https://fettogforstand.no/en/sweet-tooth/no-bake-cheesecake-raspberry-rebel/